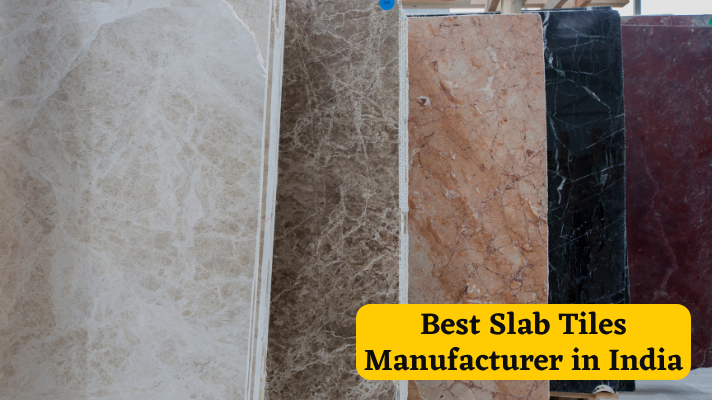 With different varieties of tiles on the market, it can be tough to decide which one is best for a certain purpose. A good tiling solution for your home or business should be more than just stronger and longer-lasting. They are also meant to enhance the user experience. If you want a long-lasting and outstanding option that is often more affordable than every stone or other tiling solution, slab tiles are the way to go.
For a long time, slab tiles were not considered a suitable choice, but the world has evolved! Slab tiles are more durable, withstand moisture and bacteria, and the list goes on. Slab tiles come in a variety of designs. They are offered a far wider range of design possibilities for commercial and residential applications.
Big slab tiles in India have gone through an encouraging improvement over the years, whilst they were the regular-sized ceramic and porcelain tiles for a very long time, slab tiles have proven their application effectiveness in modern times. And for a long time now, slab tiles manufacturers like Adila Ceramics have been at the centre of being the foremost supplier of slab tiles.
Best Slab Tiles Manufacturer in India
Morbi matches its reputation of being the tiles capital of India. The quality of slab tiles coming out of the hub is beyond imagination. Adila Ceramics has been a major slab manufacturer in the country and has successfully left a lasting impression on the domestic market. Along with that, the company has been able to satisfy a much more challenging global market by delivering in many countries around the world.
What makes Adila Ceramic the best slab tiles manufacturer in India is its world-class infrastructure that includes the high-efficiency Keda Polishing Line, renowned System Digital Machine, top of the class HLT Press, and Modena Kiln. Their comprehensive understanding of the market which is the result of its long-standing industry experience and quality management has also resulted in a much-earned reputation that is not just proven in the Indian market but have been acknowledged across continents.
Why Choose Slab Tiles?
Slab tiles have a ton of advantages over other tiling solutions, it is an established fact that slab tile is the way to go for wall cladding or flooring requirements. Slab tiles guarantee fewer grout lines and seams, resulting in a perfect appearance that gives an impression of grandeur in space. This also produces a continuous impression, adding much-needed richness and refinement to interiors.
You can use slab tile any way you like, as opposed to the regular tile you can cut, carve & form edges, and use slabs to decorate your surroundings. Slab tiles provide for the refinement of edges as well as the provision of a proper finish. This makes them an excellent substitute for stone in terms of their capacity to be worked on and customised for walls, and flooring.
When engineering experience is combined with the use of high-quality materials and trustworthy technology, you can be confident that your slabs will be as tough as any stone. They will, in fact, be sturdier and endure a long lifespan. The big slab tiles will operate as expected due to their high hardness and inner strength.
These slab tiles are a perfect solution to make facades and external walls, also because of its seamlessness, the ambience and effect that a slab tile can achieve cannot be imagined with any other exterior tiling solution. They are not only appropriate but also encouraged by architects for exteriors due to their sheer size, which adds splendour.
These easier to maintain slab tiles have been one of the most sought after tiling solutions in recent times and slab tiles manufacturers have left no stones unturned to deliver the highest quality products that are non-porous, that do not absorb water and hence remain stain-free for life.
Adila Ceramics
Adila Ceramics was established in the year 2015 but the leadership of the company had been around for decades now. Hence, it comes as no surprise that Adila Ceramics has become a synonym for quality and reliability. Its world-class quality and diverse product range, backed up by customer services which make doing business with the company a pleasant experience.
Their in-house export section is comprised of seasoned and competent individuals that are well-versed in worldwide trends and processes. Adila Ceramics has constantly pushed the boundaries of its accomplishments by delivering world-class quality products. A worldwide presence in over 80+ countries has strengthened the company's reputation. Be it their state of the art manufacturing facility or their proximity with the most convenient geographical position to fulfil all kinds of demand at a moment's notice, they surely have grown to be a major slab tile manufacturer.